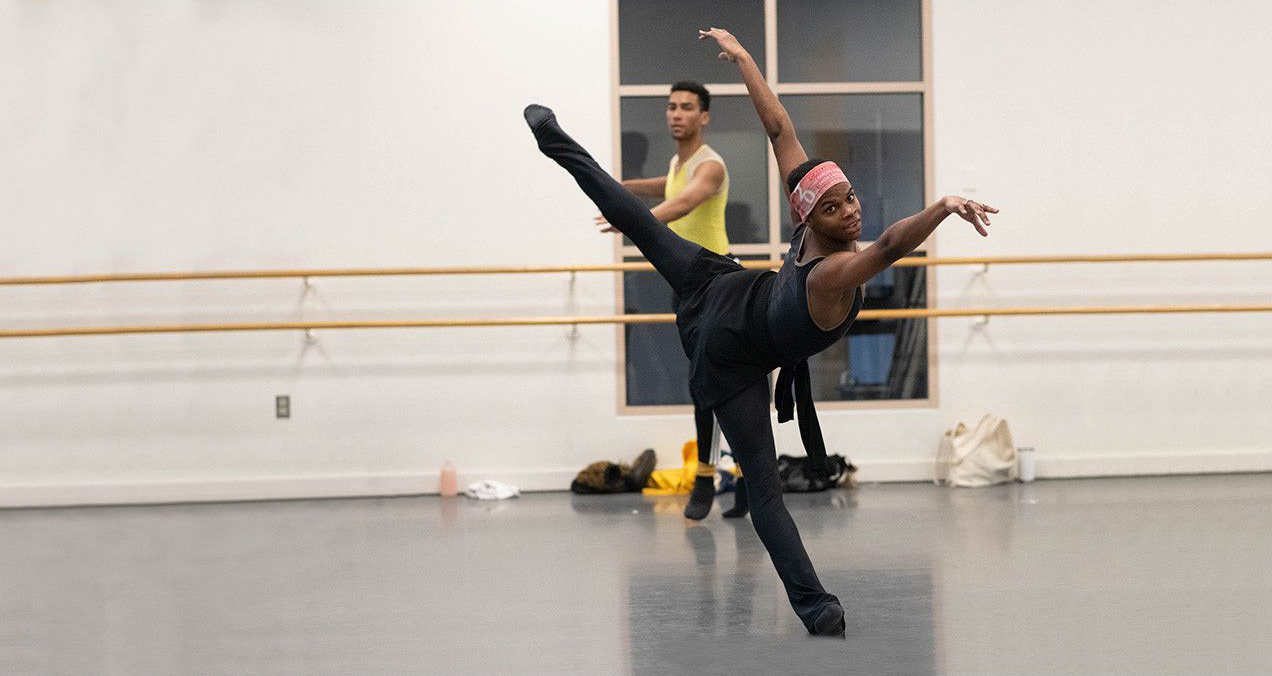 Explore the unprecedented impact of George Balanchine's
Agon
on the
world of dance.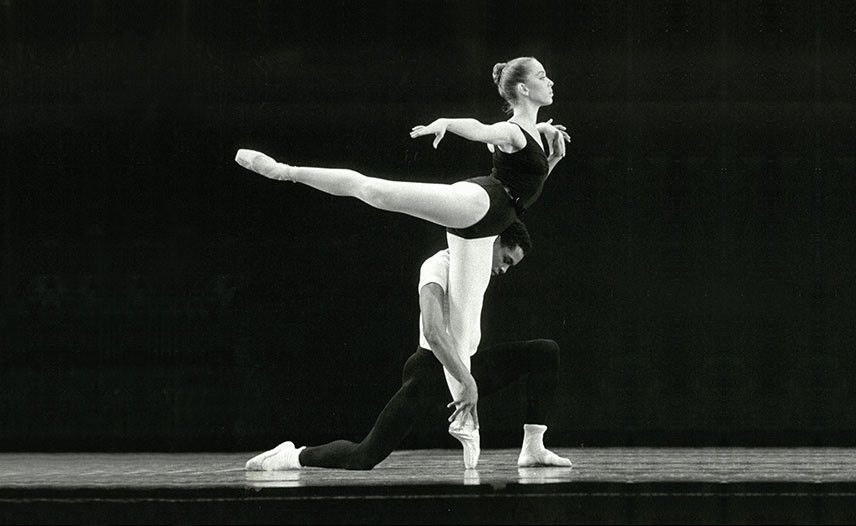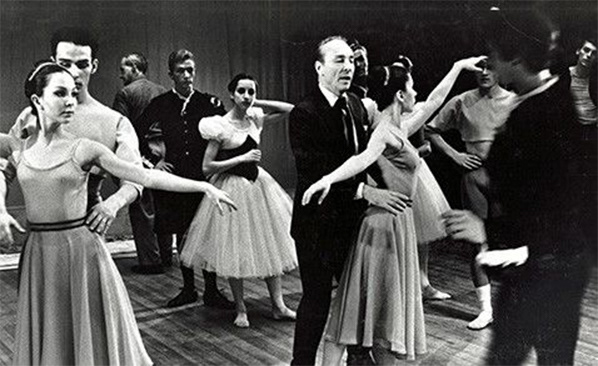 How did George Balanchine become known as the father of American ballet?
Over the span of his distinguished career,
George Balanchine
 propelled ballet beyond the imagination of delighted audiences worldwide. Along with the historic establishment of the School of American Ballet and New York City Ballet, Balanchine choreographed over 400 original works in his lifetime. His illustrious index of pieces exemplifies the ingenious style and inventive experimentation that made Balanchine one of the foremost choreographers in the history of ballet.
Balanchine's singular influence on ballet is abundantly prevalent at Boston Ballet, where he served as an artistic advisor during the Company's early years. To celebrate Balanchine's groundbreaking
legacy
, Boston Ballet will once again stage his daring masterpiece 
Agon
 this spring as part of
rEVOLUTION
.
Creating 
Agon
The artistic development of 
Agon
 was born of Balanchine's close partnership with famed composer Igor Stravinsky. Balanchine and Stravinsky were life-long friends and collaborators; together, they created some of the most highly regarded ballets of the past century, including 
Agon
.
Most often, choreographers produce works based on music that is already written ahead of time, but for 
Agon
, Balanchine developed the choreography in tandem with Stravinsky as he composed the score. "Stravinsky and I met to discuss details of the ballet," said Balanchine in his book, 
101 Stories of the Great Ballets
. "[He] always breaks things down to essentials… We narrowed the plan as specifically as possible."
From his extensive conversations with Balanchine, Stravinsky sketched the basic movements and precise timings for the ballet in detail on the original outlines for the score. From there, Stravinsky composed a score with sounds Balanchine described in his book as never heard before. This uniquely iterative process allowed for the perfect marriage between music and movement.
"A climax of modernism..."
- The New York Times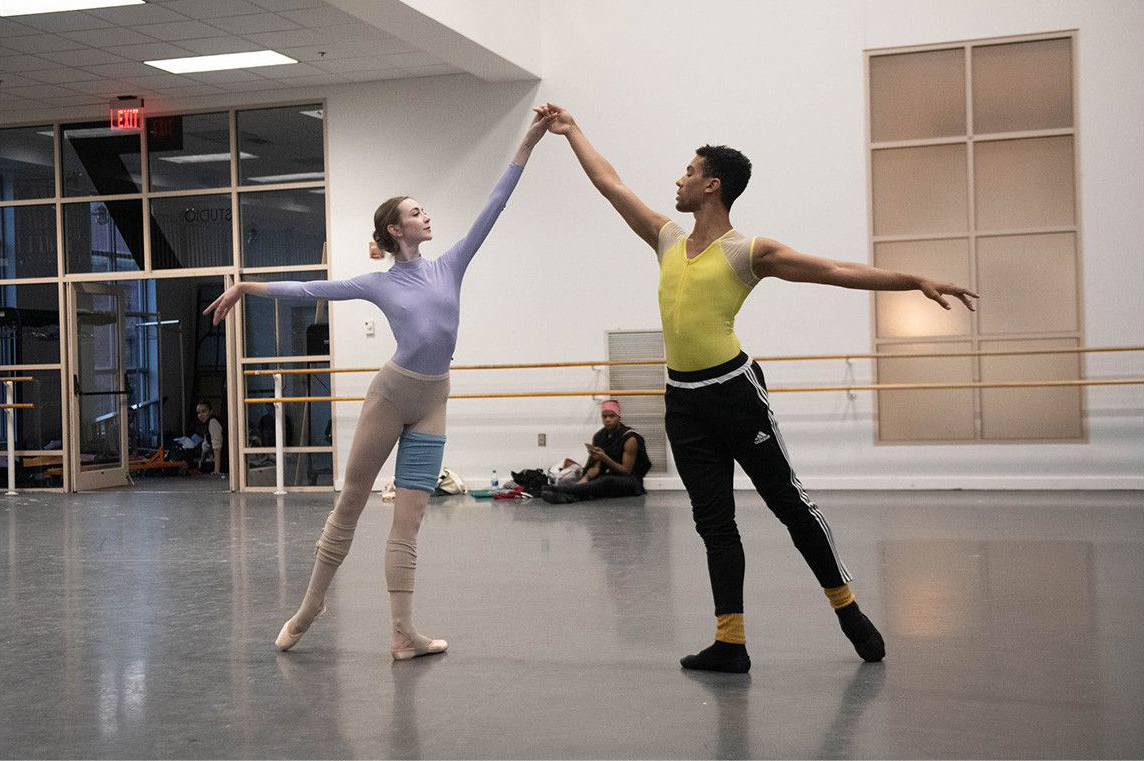 Modernism in 
Agon
As one of the most prominent forms of ballet today, neoclassical ballet is known as a genre that pushes boundaries within the traditions of dance. Balanchine's use of modernism in pieces like 
Agon
 forged neoclassical ballet into what it is now.
Agon
 premiered at New York City Ballet in 1957, and more than fifty years later, it is recognized as "a climax of modernism" (
The New York Times
). Balanchine's distinctly modern approach to choreography became the epitome of experimentation and exploration beyond the sphere of traditional ballet.
Contrary to its name, which is the ancient Greek word for 'contest,' 
Agon
 does not depict a narrative focused on a literal competition, challenge, or conquest by a main hero or heroine. The ballet actually does not have a central plotline. Rather, it is inspired by 17th-century French court dances and features 12 nameless dancers donned in simple costumes, with women in plain black leotards and men in black tights and white shirts. Sectioned into four main sequences with three parts each, the dancers interact with each other in intimate pairings of undefined relationships.
Balanchine called 
Agon
 a "plotless" ballet, straying from the standards of traditional ballet which typically involves a clear-cut story and a cast of well-defined characters. Instead, "the subject of the dance is the movement itself" (
The Kennedy Center
). By removing the ballet's reliance on an overtly theatrical story, the impact of the dancer's movements are magnified.
The eclectic and radical choreography of 
Agon
, with its strikingly unadorned costumes, presented an artistic feast that was revolutionary for its time. When it premiered, audiences were captivated by the "shapes, phrases, rhythms, sounds that hadn't been encountered before but embodied New York modernism itself" (
The New York Times
). 
Agon
 gave ballet a new look and sound that mirrored the greater American modernist movement of the mid-century.
Another way 
Agon
 transformed the art form was through Balanchine's interracial casting of the ballet's central pas de deux. African-American dancer Arthur Mitchell was paired with Diana Adams, who was white, and in the 1950s, such a pairing was perceived as scandalous and improper. Despite the controversy and backlash, Balanchine choreographed the pas de deux especially for Mitchell and Adams. "My skin color against hers, it became part of the choreography," said Mitchell (
Pointe Magazine
). Once again, 
Agon
 defied norms to emphasize powerful storytelling.
Imagine the most sophisticated game of Twister ever played, for that is what Balanchine orchestrated with 
Agon
. Right hand on classical ballet technique, but left foot on contemporary conventions and aesthetics. Balancing the two allowed for a rare artistic configuration that pioneered the genre of neoclassical ballet.
Balanchine in
rEVOLUTION
This spring, Balanchine's 
Agon
 returns to Boston Ballet in 
rEVOLUTION
. The piece will be performed alongside Jerome Robbins' 
Glass Pieces
 and William Forsythe's 
In the Middle, Somewhat Elevated
 to honor vital works of the past that paved the way for the present and future of dance.